WORKSHOPS & Special Events
Life is full of reasons to celebrate and Young Chefs® Academy takes these celebrations to a whole new culinary level! Whether we are celebrating a special holiday, hosting a community event, holding a fundraiser, partnering with a national brand, teambuilding, or given any opportunity to celebrate, Young Chefs® Academy encourages you to join in the fun!

See our upcoming schedule below and be sure to check back often as we are always cooking up ways to celebrate with you in our kitchens.
If you can't find what you are looking for or you're interested in something more specific, give us a call and we will surely assist you in finding what you need!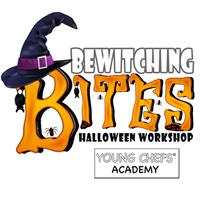 Bewitching Bites

with

YCA

Chef
Fri, Oct 26, 2018 at 6:00 pm - 8:00 pm
Double, Double, Toil & Trouble...We "knead" you to join us...If You Dare...as we fire up the cauldron to create ghoulishly-delicious bites that will bewitch your taste buds. With culinary tricks around each corner, we'll bring sweet treats and savory eats to life with a spooky-fresh pasta dish, gourmet apples & a surprising twist on caramel corn.